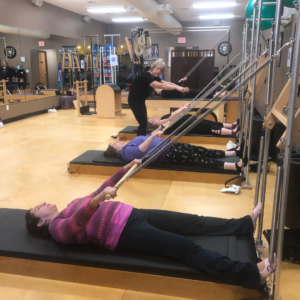 Can just one Pilates session a week improve your health & physical fitness level?? YES, YES, YES!!
Many people keep putting off starting a movement practice because they feel like they don't have the time (or money) to commit to 3 or 4 times a week!
If you have told yourself that it's just not worth it if you can only come once a week: stop it! It is absolutely not true.
I have been teaching Pilates for over 20 years and I can tell you that 1 session of Pilates or one class per week…can change how your body feels, can improve your strength and flexibility and can be life changing!

If you are willing to make a commitment to yourself to show up once a week consistently, you will love the results!
Check out our Small Group session openings below and see if you can commit to one session per week!
Need an incentive to get started? Email me to let me know you are taking my Pilates every week challenge. Take five in studio sessions in five weeks and I'll give you an extra session for free as a reward!
Group session options:
Monday 11:00 am Pilates Equipment group with Shelley M
Monday 6:00 pm Pilates Equipment group with Kimberly
Tuesday 6:30 am Pilates Equipment group with Carey
Tuesday 6:00 pm Pilates Equipment group with Shannon
Wednesday 6:00 pm Pilates Mat group with Curtis
Thursday 10:00 am Barre and Pilates group with Nancy
Thursday 4:30 pm Pilates Mat group with Rachel
Thursday 5:30 pm Pilates Equipment Group with Rachel
Friday 6:30 am Pilates Equipment Group with Carey
Sunday 8:15 am Pilates Equipment group
Sundays 5:00 pm Pilates Mat group with Shannon