Rivercity Pilates offers Private and Semi-Private Training in Pilates and Yoga.     I saw that on the website, and thought — yeah right.    First there's the price.    It's more expensive than classes, and I wasn't sure I wanted to spend that much.    Then there's the scary thought.    For 50 minutes, I am the only person that instructor is concentrating on.
I watch reality TV.    I've seen the trainers yell and scream at the contestants on the Biggest Loser and other weight loss shows.  It doesn't look that pleasant.    They yell and scream, and the contestants cry, vomit in garbage cans, and even collapse.  They also concentrate on really big challenges.   They run marathons for the right to stay on the ranch — even if takes them 20-24 hours.    I want to be healthy, but that looks like pain that I'm not sure my body could take.
I was apprehensive when I signed up for my complimentary session at Rivercity Pilates.   I didn't want to get yelled at.   I didn't want to end up with burning muscles and more pain than I started with.    I didn't want to run a marathon.     I just wanted to reduce my risk of diabetes and heart disease.   My goal was to be healthier.
When I arrived at Rivercity Pilates for my first visit, I found a spa like atmosphere, friendly people and Carey gave me an orientation to the Pilates Cadillac.  I signed up for one of the new student specials that allowed me to take personal training sessions and small group classes (usually between 3-6 people), and I am still doing both of those today.   Every private session has been extremely encouraging and positive, and no one has ever raised their voice!   In private sessions, I feel free to ask questions about what I'm supposed to do or feel during a specific exercise, and Carey always patiently explains the exercise, and often demonstrates the correct exercise, and/or a modification if I can't do the complete exercise.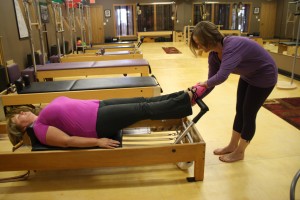 Do I feel like I'm being watched?   Yes, because my instructor is watching my alignment, my breathing, my working level, to ensure that I get the most benefit out of the exercise.  When having someone watching makes me self conscious I do what everyone does — I close my eyes!    The coaching and instruction that I've received in private sessions are some of my favorite exercise times ever and I believe the consistency of my Pilates practice, and the benefits I've seen from it start in these private Pilates sessions.
If you haven't tried private sessions because you're uncomfortable, I urge you to try 2 or 3 sessions to see how they work for you?    Then, please let me know, because I'm anxious to see if you have the same experiences that I have had!
Becky
Rivercity Pilates Student