A Pilates Teacher Training Program with Carey Sadler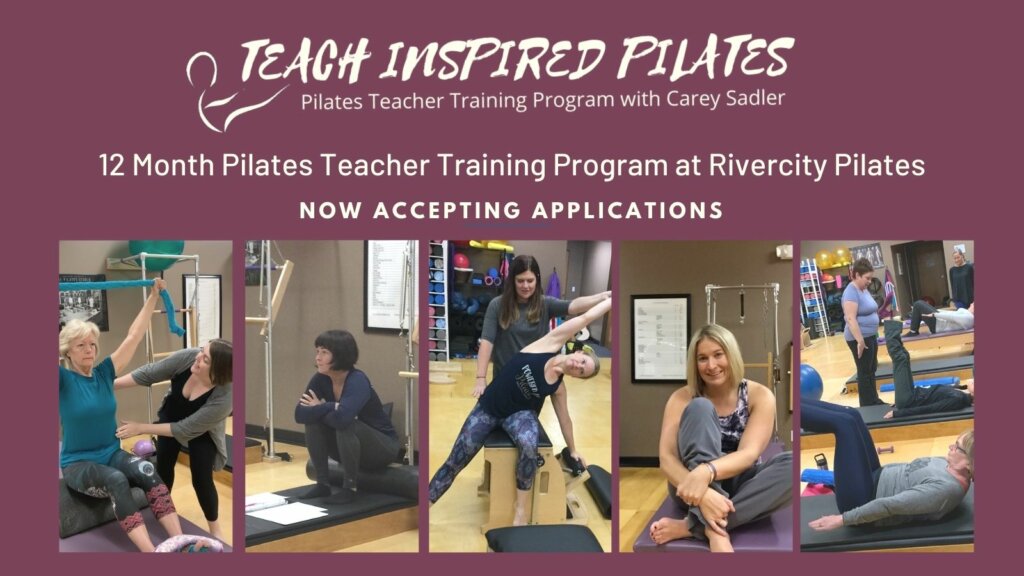 I love teaching Pilates. It is incredibly rewarding to watch the difference that Pilates makes to our clients. Being a momtrepreneur allows me to share my passion for movement, and be present for my family. We've had a teacher training program since 2011 and I have so enjoyed helping Pilates lovers become Pilates teachers. In 2019 the Coronavirus pandemic changed our world.
I'm going to get real with you. The past two years haven't been easy. We had to make a lot of adjustments, even having to cancel our 2020 and 2021 Pilates teacher training program. But, the great thing about challenging situations is they encourage you to grow and create new opportunities.
Teach Inspired Pilates, A Teacher Training Program with Carey Sadler
I am so excited to tell you about a project I've been contemplating for years. Today we are launching the Teach Inspired Pilates Teacher Training Program at Rivercity Pilates! In previous years at Rivercity Pilates, I've taught a teacher training program that was developed years ago by my mentor. It is an excellent program and I'm forever grateful that I had the opportunity to teach it. With 20 years of teaching experience and 10 years of training instructors, I found myself wanting to create my own program that could help trainees have an even better teacher training experience.
The Teach Inspired Pilates Teacher Training Program is a 12 month program based on learning the classical Pilates method created by Joseph Pilates. The program focuses on growing teachers who understand the Pilates method and how to adapt it to any body that they are teaching.
It is a program that prepares all of our trainees to help each unique student move better in their own body, and experience the huge difference that movement can make in their lives.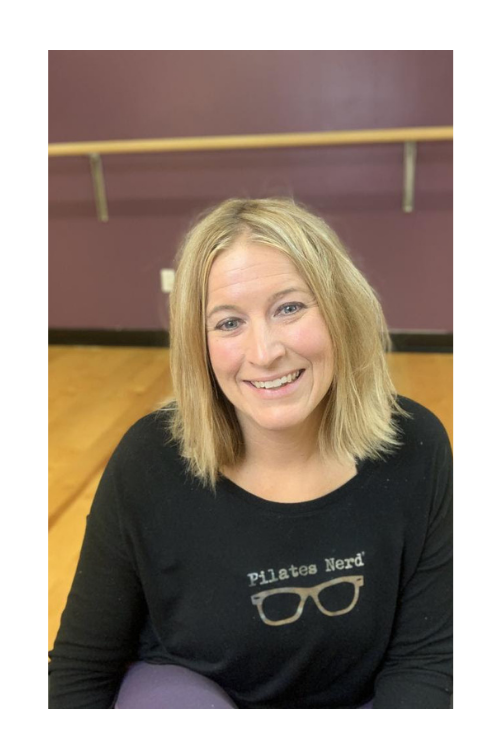 What's unique about the Teach Inspired Pilates Teacher Training Program?
Live Workshops
16 Live workshops on 6 different weekends packed with information, demonstrations, interactive teaching experiences and fun!
Digital Resources
Virtual Resources at your fingertips so you can learn from anywhere. We're using all the technology available to us in 2021 to help you learn about Pilates, and grow in your Pilates practice. At the end of our program you will be prepared to share your love of Pilates by teaching private and semi-private sessions and group classes. When you finish our program you'll be able to step in as a Pilates instructor in our studio or anywhere across the country. You'll be confident when you graduate because you've already been putting your teaching skills in action for a whole year.


Mentorship access 24/7 through our Slack App for trainees.
Slack is a messaging app that connects people to the information they need. Using slack for our training program will assure you have 24/7 access to your mentors, and will assure us that everyone has access to everything they need. Slack will help us communicate better, be inclusive and supportive, and make sure that trainees who are out of town and doing their training in satellite studios get the exact same info as the people who are physically in Rivercity Pilates 3-5 times per week. We are here to answer questions, motivate you, and encourage you through your Teach Inspired Pilates experience. You won't have to go to some paper notebook to find out what your assignments are because you'll have reminders in Slack that keep you on track and prepared for the next unit.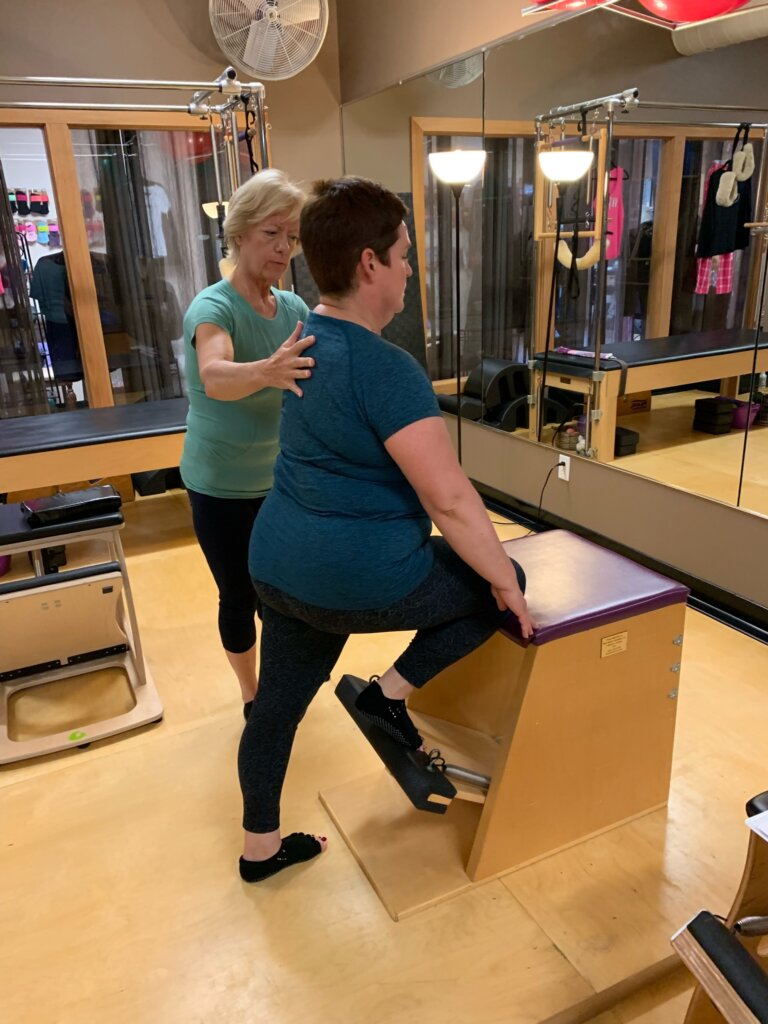 Structured Practice Teaching
We will set up practice teaching experiences for you so you can get real world experience! We have modeled this program after other higher education programs. The teachers in most higher education programs go through practicums, do student teaching, and are given feedback through each step, and that's what we'll be doing for you as a Teacher Trainee in the Teach Inspired Pilates Teacher Training Program.
Each month you will have required hours of practice teaching, and we'll set up the students for you. This allows you to focus on teaching the bodies in front of you, just as you'll be doing when you graduate from this program.
Individual Monthly Mentorship Meetings
Each individual in the program will have a Monthly Mentorship meeting at Rivercity Pilates. In each monthly mentorship meeting we will do a deep dive into common client conditions and discuss how to approach teaching Pilates to an individual with that condition.
Topics included will be: scoliosis, bigger bodies, hip and knee replacements, hypermobility, vertigo, pregnancy, spinal fusions, and back pain.
So Many Resources
You will have access to a robust Video Resource Library that includes the recorded 2022 Teach Inspired workshops, 10 #LiveBetter Workshops, Hundreds of Virtual Pilates Classes, and more.
Teach Inspired Training Manual
Teach Inspired Training Manual (available on paper and digitally). You will received a detailed manual that includes adaptations for all bodies, details on using a wide variety of props. We've included a QR code for each exercise that allows you to watch a video of an exercise by simply pointing your phone at the page and opening the link.
The Business of Pilates
We will give you access to training materials on finding your Pilates teaching path after you complete your teacher training program including marketing yourself as a Pilates teacher, how to find and work with clients you love, and how to create a business out of your passion.
Teach Inspired Pilates is a comprehensive Pilates teacher training program that is designed to be a life changing experience for anyone who wants to pursue teaching Pilates and movement. The Teach Inspired Pilates program will immerse you in learning the Pilates method in your body as well as immerse you in learning how to use the method to help train and coach others using the method.
To download the program brochure, please click the button below.