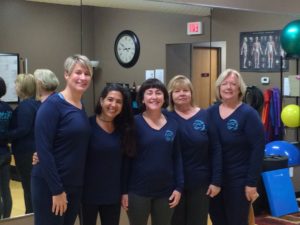 The number 1 most common question I get from people as they are considering becoming a Pilates teacher is: Am I physically ready to go through the program? This may be code for, "Do I need to lose weight to become a Pilates teacher?"
My answer to this question usually starts with some more questions for them. Do you enjoy doing Pilates? Are you willing to put the time in it takes to continue learning Pilates in your own body?
The beautiful thing about our teacher training program is that you are required to have a Pilates practice in your own body. You are required to log in hours of personal practice, private lessons with professional Pilates teachers, and group classes. It honestly doesn't matter where you are starting in your own body and it doesn't matter if you have some things going on in your body that affect your movements. If you commit to going through the program, by the time you are done you will have a consistent Pilates practice in your life and you will learn the knowledge and skills you need to help others create a practice in their own life.
So much more important than your starting place of your own Pilates practice, is your willingness to commit to getting all the program hours completed.
Are you thinking about becoming a Pilates teacher? Does the idea of creating a regular Pilates practice in your life excite you? Do you want to be able to help others create a Pilates practice in their life? We would love to talk to you in more detail about our upcoming Pilates Mat Training program starting this September!! Contact us today to set up a time to talk to Carey about the program details.