Everyone knows that you tell your troubles to your hair stylist, or your bartender, but your Pilates instructor?   Yep, that's what I did, and she even solved this one for me.
I was on vacation recently and we were doing a lot of walking.   Last year, I had worn new boots on the airplane, and started the trip with blisters which filled my entire vacation with sore feet.    I was determined not to do that this year.
The first day of vacation, I put on my ToeSox and a pair of UGG Riding boots which are very comfortable, and we headed over to the convention center.  I didn't get blisters, but two hours later, my lower back was screaming with shooting pains.    I took some Ibuprofen, but it didn't touch it.   I tried doing some Pilates breathing, and being more aware of my posture but it didn't help.    I was carrying a tiny purse, so I knew that wasn't it.   We finally had to take a break from walking, because I was feeling rotten.
When we got back to the hotel, I texted Carey, and told her I was having back pain for the first time in months.   She asked me what shoes I was wearing.   I told her, and she advised me to wear shoes with more support.   The next day, I wore a pair of cowboy boots.   We walked for hours.   No back pain.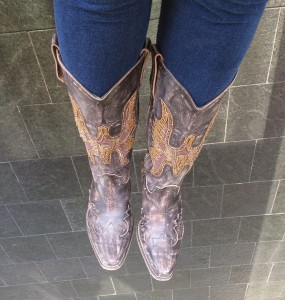 The third day I wore a brand new pair of cowboy boots, which I was thinking was risky because they weren't broke in.    No back pain, no foot pain.     It was cowboy boots on my feet the entire rest of the trip.   My UGGs are comfortable, so I can wear them for errands, and certain activities, but if I'm doing any amount of walking, I make sure to wear shoes with more support!