If you are looking at our line up of events at Pilates Day this year you might be surprised to see we are offering not only FREE Pilates but also a FREE Yoga class.  During our open house time (10 am to 12 pm)  we will also be offering Tasting Stations that include not only Pilates but Yoga, Barre, Health Coaching and even Neural Reset Therapy and Massage.  Let me take a moment to tell you why we are letting all of these other mind body movement types and health care modalities we offer at Rivercity Pilates be part of our Pilates Day celebration.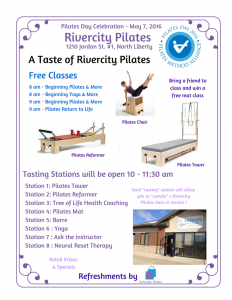 I'm pretty passionate about Pilates as a method of exercise that can make an amazing difference in the way you live your life, but I have to tell you one of the biggest gifts I've received in my own life from my Pilates practice is the realization that: Joseph Pilates didn't just teach exercises.  He taught a way to live your life.  In Joseph Pilates' books he not only talked about exercises, but also things like getting fresh air, eating for health, how to sleep best, and how to maintain your health.
As a student of the Pilates method of exercise I can tell you that this method of exercise encompasses much more than just your workouts.  The exercises are truly a catalyst to start looking at how you can be empowered to take your health into your own hands by exploring a variety of movement practices, health practices and body work designed to bring your body back into balance.
Rivercity Pilates has grown over the years from a single Pilates instructor teaching the Pilates method of exercise into an oasis of empowered, health driven instructors and practitioners of movement, body work and healthy living.  To me this is what the Pilates Method is truly about.  So as we celebrate the Pilates Method and the amazing impact it has on all of our lives this Saturday we're also excited to share everything we offer at the studio because we believe that there is no one right way to learn the Pilates ideas and concepts in your body.  We're hoping by sharing everything we offer with you and the community we might inspire you to try a new movement method, start some new healthy habits and find some movement and health care practitioners who can help you along your journey!!
We'd love to have you in class or have you stop by our Open House on Saturday!!