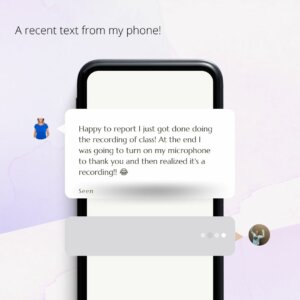 I got this note from a client who does our virtual classes this week:
"Happy to report I just got done doing the recording of class! At the end I was going to turn on my microphone to thank you and then realized it's a recording!!" 😂
This client had a great workout and the session felt to her like she was live and even in person with her instructor during class! How great is that?!

I had to share because I think there are so many people that don't give virtual classes a chance because they have told themselves things like: I can't trust myself to take a class at home, taking class on a screen just isn't as effective as in person classes, I need a teacher in person pushing me to actually do the workout…
Our clients have found that virtual classes can be a super effective way to keep themselves consistent in their Pilates and Yoga practices!
They have found that even though the classes are virtual, the connections they have to their teachers helps them stay accountable and get results in their life.
And they have found that often taking a recorded class feels like they were taking class live or in the studio!
If you are wanting to add more movement time into your life and haven't tried consistently adding virtual classes into your routine I would highly suggest it!
Try grabbing a band and practicing with the short video below as a test to see if you could feel better in your body by simply practicing movement at home, watching a video!

Please let us know if it helped you by sending me a quick email!
This short series is less than 10 minutes long and can be so effective for releasing tightness in your back, hips and legs.  All you need is a resistance band!