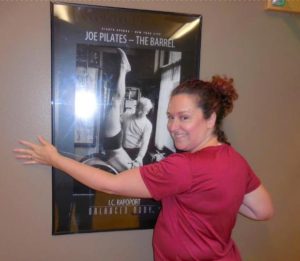 When did you start Pilates and what inspired you to start? 
I found my way to Rivercity Pilates in February 2016. I started with the Couch Potato Workshop! I was inspired to start because I was far too stiff, creaky and weak for an otherwise healthy woman in her late 40s. I had major organ surgery 17 years ago after my daughter was born. That surgery sliced through all my abdominal muscles and pried open my ribcage with a clamp the size of my head. I healed, but I didn't really discuss with my doctors how to counteract the effects of the surgery over time. It left me a little barrel-chested and with no core strength but with lots of scar tissue. I had taken a Pi-yo (Pilates and yoga combo) class in the past and enjoyed it. So I decided to look for something similar. I found Pilates in my metaphorical backyard. Coming to Rivercity was one of the best things I've ever done for me.
How often do you practice Pilates and what type of sessions or classes have you been doing? 
Like a lot of women, I'm busy balancing a career, family and my needs. I need the commitment and structure of a class outside the home to stick with Pilates. So I take evening and weekend classes at Rivercity. I'm currently taking one mat and one tower class a week. My goal is to get strong enough to take two mat classes a week. I'm confident I'll get there!
What benefits or improvements have you noticed in your body and life from doing Pilates? 
I'm stronger, more flexible, better toned — even with all the scar tissue. I can stretch farther than before and am so less stiff! I'm  comfortable in my skin again, and that makes me a happier person every day, all day.
Do you have a favorite exercise or piece of equipment (or both)?  
Writing this, I'm realizing that I'm an equipment fan. I like the Tower in general and really enjoy the ab series that Janee takes us through on the Tower. Through Carey's mat class I've discovered the fun of workout balls and bands. The Stretch-eze is a little different, but even that is fun.
What would you say to someone who is thinking about doing Pilates?
Do it, and do it at Rivercity. The instructors are friendly and compassionate, and the clientele is welcoming. And I like that attention is regularly paid in classes to good form and adjusting the exercises to the individual's capabilities. Great, great stuff.