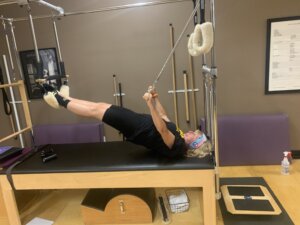 From Sidney: My husband and I are active retired people who prefer outdoor activities like hiking, biking and golf. With gentle suggestions from the massage therapist at River City Pilates and enthusiastic encouragement from my younger sister, about 2 years ago we decided to try Pilates to help improve our overall fitness, reduce aching muscles and joints and for me primarily to improve my strength.
Although it is cliche, for me Pilates is a journey and not a destination.
I truly relish the notion that in Pilates there is no finish line, no required levels of testing for particular achievements or accomplishments, no trophy for Best in Show. Both the group and semi private sessions my husband and I have done together at RCP emphasize working at my own level. And I get to decide what that level is! I especially enjoy trying a particular movement taught in a very specific way.
Being able to do a movement I couldn't fully do the week before is exciting and it gives me a true feeling of accomplishment. Instructors also provide a variety of teaching techniques for people whose optimal learning style may be visual, or auditory or even tactile often using metaphors and their own personal examples. The movement methods taught have allowed me to be more flexible and certainly stronger which is very satisfying. The outcome of this is reduced inflammation and less soreness.
I like to think my golf game has improved driving the ball further and straighter without pain or stiffness in my back afterwards, I like to think I am taller when I leave class than when I arrived and I am always looking forward to the next class because my body has so many parts I continue to focus on and improve and again, it's all at my own level. My Pilates journey is intriguing, satisfying and has taught my body to move in helpful ways I never thought possible.
Now, some thoughts from my husband.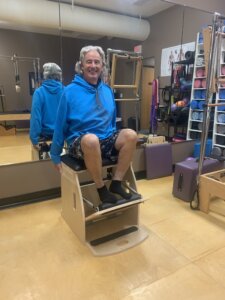 From Larry: I have participated in competitive sports all my life. In my younger years I would workout because I had to. Now I work out because I want to.

Initially in Pilates classes, I was surprised at my lack of balance and core strength. My awareness was brought to light by the gradual progression of Pilates routines. During semi private sessions I find that Pilates gives me a complete and challenging workout that is refreshing at the end of each class.
The instructors vary the routines and equipment to make each session unique and motivating. Also the instructors attention to the details of proper form and technique is what sets them apart. I enjoy all of the equipment pieces we use and the variety keeps the workout challenging and definitely keeps my interest and focus. However, I must say, the Oov rates pretty high on my "brutal meter!"
I appreciate that I have improved my range of motion in both shoulders and overall improved my strength and balance. I look forward to continued involvement in Pilates at River City Pilates.