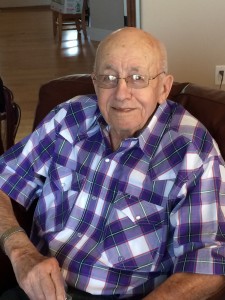 Like many of my male clients, Murray got talked in to Pilates by someone who loved him and knew that some mindful movement and breath done safely could help him feel better in his life. At 92 though, he definitely wasn't my regular studio client and I'm sure that the little time we worked together taught me way more than I taught him.
Murray's daughter had been a regular client of mine for awhile and since she was a care taker for her dad she often had days where she ended up needing to miss her Pilates sessions at the studio because it didn't work out for her to leave him home alone. Since Becky lived closed to me I offered to come to her house for her Pilates sessions so she could still keep up with her Pilates practice. (If you are or know a caretaker you know it can be a LITTLE stressful and being able to have a mindful movement practice can be an amazing tool at keeping yourself healthy…this is a whole other blog…).
So I got to know Murray because he would often be sitting in his chair having coffee when I came over for Becky's session or sometimes he would come out of his room part way through our session just to watch.  (He especially enjoyed watching when both Becky & Mike were working out and loved to give Mike a hard time about why he was sweating!)  We often joked with him about wanting to join us but he just said in a very Murray kind of voice…NO!
One day Becky sent me a note to let me know that Murray agreed to do 5 minutes of Pilates with me…maybe just some Pilates breathing.   I often get excited about new clients, but I have to tell you I was super excited to work with Murray as I knew that we could do some pretty basic simple things that would probably make a big difference in his life.
The first day I was there for a session Becky had Murray in his chair so he could do some Pilates with me. I could tell that he didn't really want to do anything but was being nice for my sake (and Becky's). We started with some Pilates breathing. Murray had COPD, so anything we could do to help his body breath more efficiently was going to help him feel better. I had brought some squishy 4 inch balls over for him to squeeze to help with movement and strength in his hands. I may have given him a few ideas of how to improve his posture and engage his core muscles….but honestly I just wanted him to get to know me better and see that what we were doing was not so bad and might actually help him feel better.  This is how our sessions continued. Usually we didn't do much more than 5 or 10 minutes tops and I really just tried to get him doing some gentle movements that would help him strengthen and maintain flexibility and functional movement.
My favorite session with Murray was a day after we had more than a few sessions under our belt and he was getting more comfortable with me and more willing to try different things I suggested. We had been using a small playground ball for some inner thigh strengthening and then I was having him hold the ball in front of his chest and straighten/bend his arms keeping his good posture. Some how I got him straightening and throwing the ball to me just in front of him and him catching and pulling it back into his chest…we were playing catch! Murray had the biggest most genuine smile I had ever seen from him (or maybe anyone) and I knew at the moment I would remember that smile forever. I remember thinking at that very moment that is why I teach movement….joy of movement. He was having fun and playing catch and his smile could light up a whole room.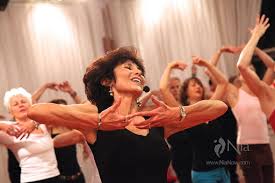 Joy of Movement…that moment when you are moving and smiling and enjoying yourself…not worrying about counting calories or which muscles you are strengthening or how many calories you are burning. Kids are great at finding Joy in movement…dancing, climbing, playing with no worries. As adults I think those moments are much harder to come by.
As a Pilates instructor I love knowing how the body moves, I love using movement to create balance in the musculature, I love teaching the Pilates method to bodies of any age, size, and shape…. But more than that I love helping people find Joy of Movement in their lives….