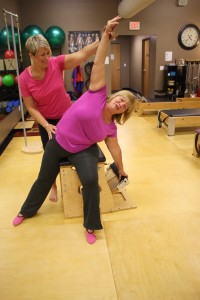 In our staff meeting everyone was asked to write a blog. I thought to myself,  "What do I have to say?". But then I got to thinking,  I have a lot to say.
The last year and a half have been a medical roller coaster for me. Between my knee, back surgery, a pinched nerve and Parkinson's, it's been a trying year. Thru all this I try to stay positive, even though sometimes it is hard.
I continue to go to the studio and try my hardest at pilates. When I walk into Rivercity Pilates, Shelley or Carey or whoever is there is smiling and I know they care and understand. I love pilates and the friends that I have made there.   It truly is a community of caring.  Carey looks after me and never judges, she pushes me to my limits but never pushes to hard. She keeps me positive and strong.
Keep working hard at pilates, yoga, or Barre class.   Whatever you take,  it pays off.  Remember every day is a good day. Even if it sometimes it seems like it isn't.
Nancy
Evening Front Desk