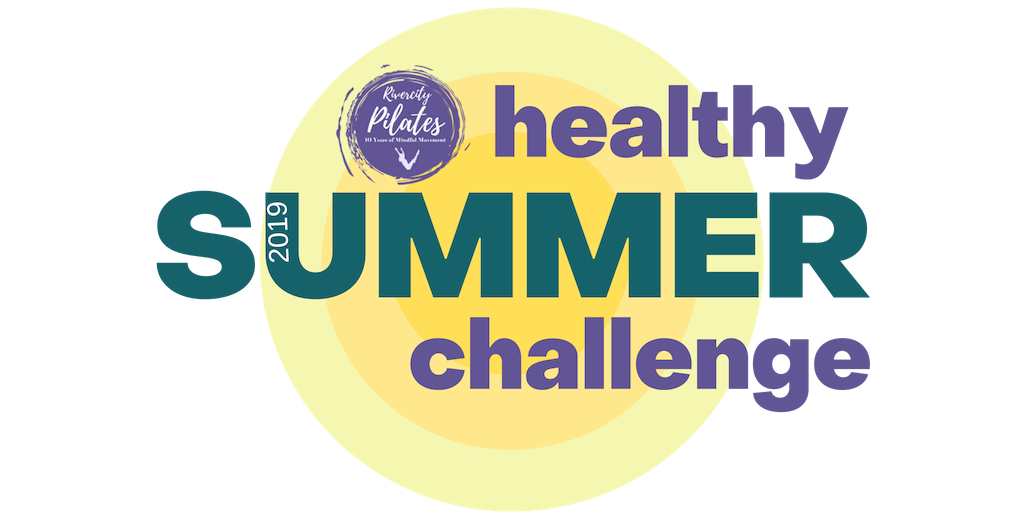 Welcome to our 2019 Healthy Summer Challenge! Whether you are starting a new movement practice or maybe you just want to continue to keep consistent this summer with your already established practice we are excited to have you join our free summer challenge. Our challenge to you is to stay committed to keeping movement as important part of your life, no matter where you are or what your summer schedule looks like! Our summer challenge is not about a 6 pack or focused on losing weight — our summer challenge is about body confidence, energy, strength and happiness!
Like we've done in past years we'll be giving you a chance to win super cute Rivercity Pilates gear for being consistent and getting regular classes in at the studio. Simply check off on the chart at the studio when you are in to track your classes! Get a minimum of 8 classes in (1 per week) and you'll win a newly designed Rivercity Pilates love handle (Carey's favorite accessory for her phone), Get 16 classes in and earn a super cute Rivercity Pilates baseball hat! Get 24 sessions or more in and you'll earn a Rivercity Pilates shirt from our fall collection!
Out of town but still want to participate? If you have internet access you can take a class virtually! Just email us and we'll help you set it up!! We've been doing this for some of our clients who travel a lot and they love it!! These classes count toward prizes!!
Not able to make it into the studio this summer but still want to participate? Take our 10 minutes a day movement challenge! Click here to get your tracking sheet! Use one of our weekly workout videos or do your own movement practice each morning for 10 minutes. Turn in your completed sheet after the challenge to win a Rivercity Pilates journal (great for tracking fitness, writing down your health goals or just taking notes)!!
Click here to officially sign up for the challenge!