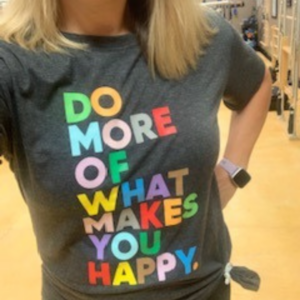 Lately, I've really been noticing how a lot people have a habit of talking and thinking endlessly about things that bother them. 

I've also been noticing that the people who do this are usually not very happy overall and they don't feel good in their bodies!
The people who choose to look at things positively, who look at the bright side and see obstacles as way to grow and learn…are the people who are happier and feel better in their body. Have you ever noticed this?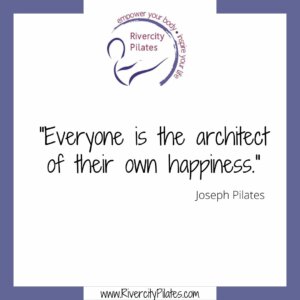 Have you heard Joseph Pilates famous quote: "Everyone is the architect of their own happiness"?  I think Joe was talking about the simple idea that you can choose how happy you are by choosing how you think about things!
When you move your body you can choose to focus on what hurts and what doesn't feel good or you can choose to focus on what you CAN do in your body. You can choose to look at an injury or a pain in your body as something horrible or you can choose to look at it as an opportunity to grow and understand your body better.
It always seems kind of silly to me that anyone would choose to think about things in a negative way, but I continue to realize that most people don't even know they are doing this. It's just a habit.
I was thinking about how much I love that our Pilates teachers are experts at helping bodies figure out what they can do. I love that our teachers are experts at not just teaching exercises to all bodies but also teaching people how to think about movement in a way that helps them feeI better in their body and in their life.
I love that our teachers are experts at creating a comfortable, encouraging environment to help clients practice doing things that help them find their happy!
I'm so excited that we are going to be able to offer more opportunities for clients to be able to get in to the studio and work with our amazing teachers in person this month! Be sure to send us an email if you want to reserve  a spot!