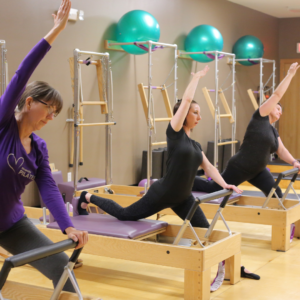 Ever wonder what is the Pilates Reformer and why people are always raving about it?
The Pilates Reformer was designed by Joseph Pilates as an all in one piece of exercise equipment that could be used to train the entire body creating balanced strength and flexibility.
The magic of the reformer happens when you mindfully practice exercises on the equipment that are specifically designed to help you train your body.
The spring based Reformer gives the user the perfect amount of assist and resistance and allows the user to get more out of each exercise they practice. Since there are various spring tensions you can use for each exercise it is extremely important to have an experienced teacher who can adjust the spring tension for your body and teach you how to get the most out of each exercise!
Tuesdays at 6 pm Shannon teaches a small group session that focuses on practicing Pilates on the Reformer. Our small group sessions are always all levels. Our teachers are experts at teaching sessions that are appropriate for all levels (yes even brand new beginners who want to join).
If you are interested in trying out a weekly Reformer Session and Tuesdays at 6 pm work for you…contact us today! We are offering a special deal to the first two people who contact us. Purchase a 10 package of sessions and you'll receive an 11th session for free ( $46 value!!)