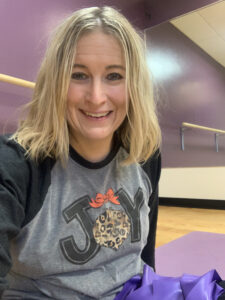 Oh I just love a new year! I love reflecting on the past year, I love the holiday season at the end of the year and I love the time I spend dreaming and planning for the year to come! Anyone else?
One of the things I do every year is pick a word for my year to come. My word ends up being my theme for the year! I had already picked my word for 2023 this past month and so I found it so fun that when I opened an email template to start writing this email I found a picture of me wearing a shirt with my word on it already in the email! My word for 2023 is JOY!
This simple word is my reminder that my life is meant to be fun and filled with joy. It reminds me that I can choose what I am focusing on in any moment and that focus creates my experience. It reminds me that I can choose to be focused on the good, the positives and the joy of the moment unconditionally no matter what others may be thinking, saying or feeling.
Do you have a word for 2023? I would love to hear it! Please email me and let me know what it is!